Need assistance ? 
🆕 As of 1 December 2022, our new PRM Corner is available and ready to welcome you on the esplanade in front of Terminal 1.
Before your trip
If you need special assistance, it is essential to notify your airline or travel agent when booking your flight. You can specify the type of assistance you need and whether or not you have your own wheelchair.  
You have up until 48 hours before the day of your departure to ask your airline for help. However, it is a good idea to do so at least a week in advance.
Attention: if you are travelling with your own equipment, make sure you check the prohibited items on the plane to see if they are within the standard.
For more information on the rights of disabled people and people with reduced mobility when travelling by air, please consult the European regulations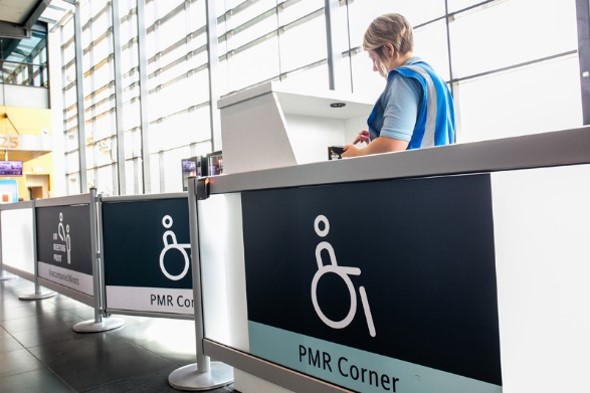 At the airport 
Once you have completed these formalities, you will be assisted by our PRM service as soon as you enter the terminal.
When you arrive at the airport, please check the screens to see which terminal you are departing from (T1 or T2) and then go to the corresponding PMR Corner:
T1: At the PMR Corner located on the esplanade in front of the Terminal (point 6 on the T1 map)
T2: At the PMR Corner located next to the check-in desks in Terminal 2 (point 3 on the T2 map)
If you have baggage to check in, an agent will accompany you to the counter to complete all the formalities. If your baggage has already been checked in, you are invited to go directly to the PMR Corner.
All passengers are requested to arrive at the airport at least 2 hours before the departure of their flight. You can follow the status of your flight live via the CRL AIRPORT APP.
Unaccompanied minor
Some airlines accept to transport minors travelling alone. In this case, an airport staff member from our PMR service can escort your child until he or she is seated on the plane
Last minute requests
If you have an urgent request less than 48 hours before your flight, the airport cannot guarantee that it will be able to help. However, you can still send us your request via the contact form.
Where to find us ? 
There is a PMR Corner in each terminal (number 6 on T1 and 3 on T2).